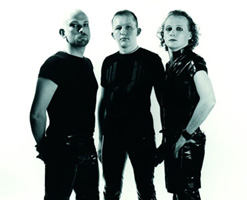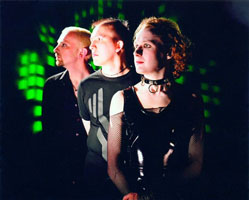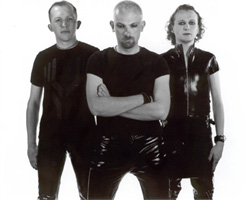 Libitina, the UK gothic darkwave band, was formed in November 1994 when the founder members were students at the University Of Sheffield. The band have an emotionally intense sound, with anthemic songs, romantic lyrics, and dancefloor-friendly percussion. The current line-up is Darren (guitar, programming), Jamie (bass guitar, programming, vocals), and Phill (vocals, programming, guitar, bass guitar). The band takes its name from an ancient Roman goddess, associated mainly with darkness and the shades. In common with many early Roman divinities, Libitina came to be confused with other goddesses, Proserpina (presiding over funeral rites) and Venus (the goddess of love and marriage). Libitina are influenced strongly by this trinity of love, darkness, and death.
To date, the band have released five CDs on the Libation Records label: 'A Closer Communion' (1997), 'Weltanschauung' (2001), 'The Shadowline' (2003), the remix album 'Reflections & Refractions' (2004), and 'Parhelion' (2006). The first two CDs were produced by Stephen Singleton, a founder member of 80s band ABC, whilst Reza Udhin of UK EBM band Inertia and synth player in Killing Joke co-produced the latter two. Libitina's intelligent and brooding original material has received much airplay around the globe, complemented by the worldwide goth club hit 'Gothic People' (recently filmed for a BBC Television show). Their songs have appeared on a number of compilations, including CDs released by Nightbreed, Nova Tekk, and PHD. Libitina have recently remixed songs for Audio War (to appear on 'Under Enemy Control' on MOMT Records) and The Voices of Masada (to appear on Strobelight's 'New Dark Age IV').
Libitina have played live with many of the leading bands in the goth scene, including The Mission, Rosetta Stone, (Children On) Stun, The Marionettes, The Last Dance, Midnight Configuration, and The Cruxshadows. Particular highlights for Libitina have been their appearances at The Whitby Gothic Weekend (Whitby, UK, 1997, 2004), the Sacrosanct festival (LA2, London, UK, 1997), Infest (Bradford, UK, 2000), Euro-Rock Indoor Festival (Antwerpen, Belgium, 2002), and LeFantastique.Night VI (Bruxelles, Belgium, 2003). The band have played headline shows throughout the UK and in Italy, Germany, and Ireland.
Visit the Libitina Website.
---
Pinion
Dark synth pop act Pinion is Libation Records' new signing. More information on the project soon...
---
This website is written and maintained by Jamie Libitina.
Last updated August 13, 2006.
© Copyright Libation Records, 2004-2007.
All rights reserved.