Undead Dark Club. The event takes place on Friday 14th July at Zombie Party, Undead Dark Club, Violant d'Hongria 128, Barcelona. Doors 00:30-05:30.
---
June 2006: Feedback on the new Libitina album
'Parhelion' was awarded album of the week by Belgian gothic/industrial/wave/electro/EBM radio show Darker Than The Bat on 14.06.06.
---
May 2006: New Libitina album 'Parhelion' released on May 5th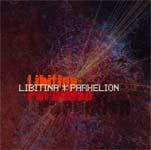 Libation Records is proud to present the new album from leading UK gothic act Libitina. Dark, angry, and intensely romantic, 'Parhelion' is set to be one of the most exciting releases of the year, and is already attracting widespread attention on the UK scene amongst critics and music lovers alike. Engineered and co-produced by Reza Udhin (Inertia and Killing Joke), 'Parhelion' mixes classic gothic guitars with modern electronics to stunning effect. With its emotionally intense and anthemic sound, the album marks another significant step in the evolution of Libitina's distinctive brand of music. Stand out tracks include the modern dance floor classic 'Salvation', the Eighties-influenced goth-pop 'Endgame', and the slower, intimate 'Alea Iacta Est'.

The tracklisting is as follows:
Duty Unbound
Endgame
Breathe
Landfill
Alea Iacta Est
Salvation
The Darkest Hour
Geist
My Heart's Kingdom
Panopticon
Memento Mori
Duty Bound
---
May 2006: Release parties for the new Libitina album
The following clubs are celebrating the launch of 'Parhelion' with special give-away nights:
April 22nd: Minuit Noir, Mannheim, Germany
May 5th: Inferno, The Electric Ballroom, London, UK
May 17th: The Dark Wave Lounge, Michigan, USA
May 20th: Antilight, Koko, London, UK
May 27th: Nocturna, Chicago, USA
April 2006: Libitina remix Audio War
A Libitina remix of 'One Drug' will appear on Audio War's new remix CD 'Under Enemy Control' (MOMT Records). Audio War is the brainchild of ex-Cubanate member Graham Rayner and K-Nitrate member Christian Weber. You can listen to all the tracks on Last FM. The CD will be released on May 22nd.
---
January 2006: Libitina to appear on BBC Television.
A live recording of 'Gothic People' was filmed in September 2005 for a BBC programme entitled 'Pulp: The Story of Common People'. The band were also interviewed for the show, to be broadcast on BBC3 on Sunday 15th January at 8pm.
---
December 2005: Libitina remix The Voices Of Masada.
Libitina have produced a remix for UK gothic rock band The Voices Of Masada. Entitled 'Step Down (Iron Awe Remix)', the track will be released on Strobelight Records' 'New Dark Age IV'.
---
November 2005: Libitina begin recording their new album.
Libitina have gone into Cryonica Studios, London, to begin recording their new album. It will be 12 tracks long and is scheduled for release in April 2006.
---
July 2005: New design for website.
Thanks go to Othila for updating the graphics on our site!
---
June 2004: New CD Released.
'Reflections & Refractions' (Libation Records, LIB004CD) is the latest release from UK gothic darkwave band Libitina. It contains reworkings of material from their back catalogue ('A Closer Communion', 'Weltanschauung', and 'The Shadowline') with the band's new vocalist and updated sound. The producer on this release was again Reza Udhin of UK EBM act Inertia. 'Reflections & Refractions' also features brilliant remixes by a number of the UK's finest dark alternative acts, as well as US electronic noise band Terrorfakt (recently signed to Metropolis Music). The artists that have contributed to the release are Inertia, Swarf, K-Nitrate (ex-Cubanate), Sins Of The Flesh, Synthetic, and Pretentious, Moi? (a Manuskript side project). Songs from the release will appear on compilation CDs over the next few months, including Kaleidoscope's Issue 16 cover disc (UK) and Darkcell Digital Music's 'Splinter_Cell' album. 'Reflections & Refractions' is an album designed for club play, appealing to both the gothic and EBM fraternities with its range of mixes and styles but retaining the band's distinctively romantic and anthemic sound. We've already had some very good feedback about the CD from DJs around the world.
The tracklisting is as follows:
Valediction (Terrorfakt Remix)
Dirt I Cannot Wash (Calm In A Piranha Remix by Pretentious, Moi?)
Mea Culpa (Libitina vs. Inertia Penitent Remix)
Dreams No More (Censorius Mix)
Farewell My Love (Wet Dream Remix by Sins Of The Flesh)
Colours Revealed (Inertia Remix)
All That I Have Ever Lost (Kitchen Mix)
A Higher Unity (Swarf Remix)
Mutual Faith (Belief Mix)
Painted Whiter Than White (Spiro Agnew Mix)
Shibboleth (Footstamper Remix by Synthetic)
Diomedean Exchange (K-Nitrate Remix)
Fragility Of Self (The Eyes Have It Mix)
Dirt I Cannot Wash (Maculosus Mix)
---
This website is written and maintained by Jamie Libitina.
Last updated August 20, 2006.
© Copyright Libation Records, 2004-2007.
All rights reserved.